Written by Aleksander Stave Grønnestad, intern at Wikimedia Norge from Oslo Metropolitan University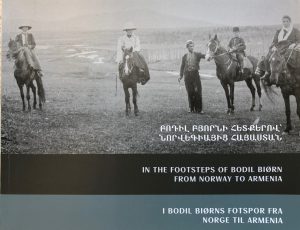 Wikimedia Norge, Wikimedia Armenia and The National Archives of Norway have collaborated on a project to digitize a collection of 181 historic photographs created by the Norwegian missionary and nurse Bodil Biørn (1871-1960) who took the photos during her stay among Armenian christians in the Ottoman Empire starting in 1905. A selection of these photographs have now been published in the tri-language publication In the footsteps of Bodil Biørn from Norway to Armenia.
The text in the book is presented in Armenian, English and Norwegian. The handwritten Norwegian descriptions on the photographs were transcribed into digital text and then translated into English and Armenian. The photos have been shared on Wikimedia Commons under a CC by SA 4.0 license making them free to use on any language edition of Wikipedia and by any other project online and offline.
The transcription was organized by Wikimedia Norge and was financed by the Arts Council. A paid volunteer from the Wikimedia community worked with first transcription under guidance from the staff at the National Archives. The project aimed at highlighting a women's perspective in history and her documentation of the lives of children and women. On Wikipedia there is a gender gap in terms of both editors,who are contributing to the site, and in content, i.e. who does the editors write biographies about. The photographic collection depicts a part of Armenian and Norwegian history that is not well documented and provides insight into the region and its history for an international audience.
The work on the publication has been done by Davit Saroyan, Community Program Manager from Wikimedia Armenia. This is his thoughts on the publication:
«In the footsteps of Bodil Biørn from Norway to Armenia» photo book, with almost all photos taken by Biørn, will be a way to speak out about our successful cross-chapter collaboration with Wikimedia Norway and GLAM projects in general. We believe that with this book we will be able to materialize the result and best practices of the collaboration and express gratitude to all parties involved."
The collaboration between Wikimedia Armenia, Wikimedia Norge and The National Archives will continue in 2019 with renewed funding from The Arts Council in Norway.
Kategori: Blogg, Hurra for praksisstudenter!, Innlegg forside, Mangfold på Wikipedia, Nyheter, Riksarkivet, Wikimedia Armenia