On Saturday, the general assembly of Wikimedia Norge was held as a video conference because of the corona situation. Thank you to everyone who participated, despite the unusual and challenging times we are in.
Sigrun Espe was elected as the new chair of Wikimedia Norge. Congratulations! Espe has experience with the Wikimedia projects through her own contributions, and has a long and wide experience from organizations, including as a board chair, and education and experience from the archive sector.
We would also like to thank Hogne Neteland for his contributions as board chair for several years.
The protocal from the general assembly can be read here.
The board and employees of Wikimedia Norge wishes all the best for Wikipedians and friends, domestic and abroad. Please get in touch with the employees if there's anything we can help out with.
The flowers that were supposed to be given to Espe and Neteland during the general assembly are pictured here instead.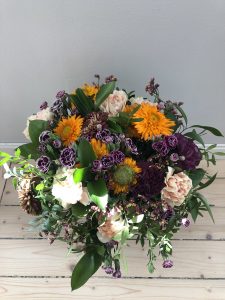 Kategori: Blogg, Innlegg forside, Nyheter