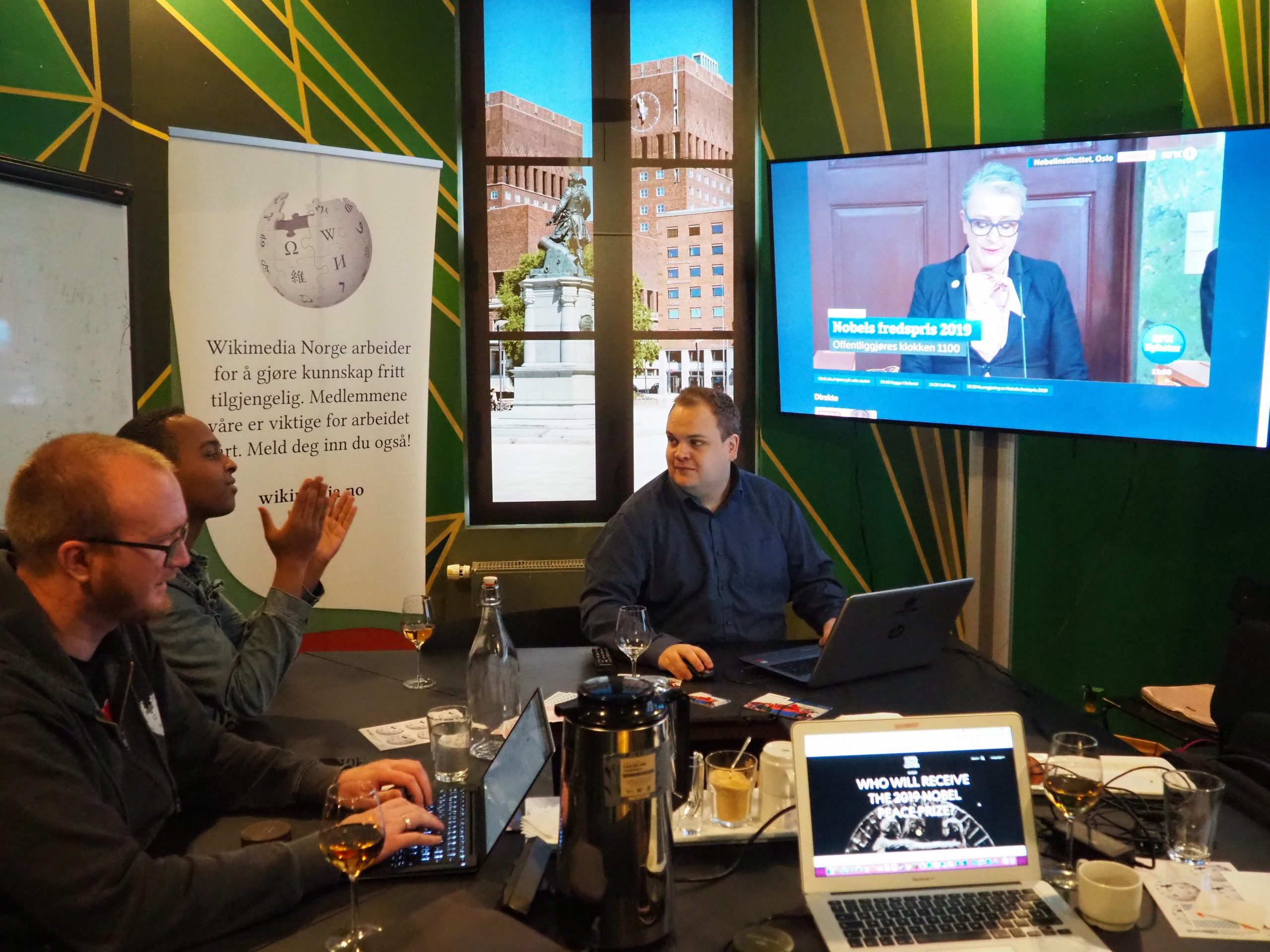 9. oktober klokken 11 blir årets mottaker av Nobels fredspris annonsert. 
Vanligvis flytter Wikimedia Norge sitt kontor til Nobels Fredssenter den dagen og sitter der sammen med frivillige og har et wikiveverksted. På wikiverkstedet oppdaterer vi Wikipedia om årets fredsprismottaker(e) og andre emner knyttet til fredsarbeid. 
I år gjør vi det digitalt! Bli med på digitalt wikiverksted fra kl 10-14 CEST (UTC +2). 
Du finner oss i Telegramgruppen wikinobel: https://t.me/wikinobel og på Google Meet: https://wikitreff.wikimedia.no/.
Velkommen!
Lurer du på hvordan du kan bidra? Du kan ta utgangspunkt i listen (i bunn av bloggposten) fra Nobel Fredssenter over kvinner som ble nominert til fredsprisen, men som ikke fikk den.  Du kan sjekke om biografiene er skrevet på din språkversjon av Wikipedia eller om biografiene trenger forbedringer. Listen er basert på arkivet til Nobelinstituttet frem til 1960. 
Det digitale skriveverkstedet følger Wikimedia Norge sin retningslinje for inkluderende møter.
Wikinobel 2020: digital editathon
October 9 at 11 CEST (UTC +2), this year's recipient(s) of the Nobel Peace Prize award will be announced.
In previous years, Wikimedia Norge and volunteers have had the pleasure of holding an editathon at the Nobel Peace Center.  During the editathon we have worked on updates about  the recipient(s) and other topics related to peace work. 
This year, the event will be digital! Join the digital editathon, that will be going on from 10-14 CEST (UTC+2).
You can join us in the Telegram group wikinobel: https://t.me/wikinobel and on Google Meet: https://wikitreff.wikimedia.no/.
Welcome!
Wondering how you can contribute? You can check out this list (at the bottom of this blog post) made by The Nobel Peace Center of Women nominated for the peace prize, but didn't get it. You can check if their biography exists in your language version of Wikipedia, and if it needs improvement. The list is based on the archive at The Nobel Institute up until 1960. 
The editathon follows Wikimedia Norges's Safe Space Policy.
     

Priscilla Hannah Peckover

     

Lucia Ames Mead

     

Belva Ann Lockwood

     

Henriette Verdier Winteler de Weindeck

     

Madame Angela de Oliveira Cezar de Costa

     

Anna Eckstein

     

Rosika Schwimmer

     

Mary Shapard

     

Madame Severine

     

Eglantyne Jebb

     

Elsa Bränström

     

Lady Aberdeen

     

Annie Besant

     

Prinsesse Marguerite-Antoinette h. Djabadary

     

Janet Miller

     

Julie Bikle

     

Moina Belle Michael

     

Irma Schweitzer

     

Henriette Szold

     

Princesse Henriette av Belgia

     

Carrie Chapman Catt

     

Alexandra Kollontaj

     

Eleanor Roosevelt

     

Gertrude Baer

     

Katharine Bruce Glasier

     

Maria Montessori

     

Eva Peron

     

Princesse Wilhelmina

     

Elisabeth Rotten

     

Barbara Waylen

     

Margaret Sanger

     

Helen Keller

     

Lady Baden-Powell
Kategori: Blogg, Innlegg forside, Internasjonalt, Nyheter, wikinobel
Stikkord: #NobelPeaceCenter #NobelPeacePrize2020, #wikinobel