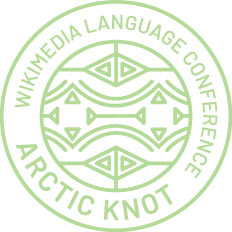 For the Arctic Knot Wikimedia Language Conference we wanted to work with a designer with a good understanding of the Sámi history and culture and try to find a way to reflect this in the conference design. That, and our previous experience with Árvu was the reason we chose to ask them to create the conference logo. The word Árvu means «value»in Northern Sámi, and on their website they write «Árvu is the unique arctic identity». 
The pattern in the logo consists of segments that are chosen from typical Southern Sámi engraving patterns, often engraved on pieces of horn which one can see on knives or on the guksi (wooden cups). Sámi craft practices are called duodji (Northern Sámi),  duedtie (South Sámi) or duodje (Lule Sámi). More than being «just» art, the duodji practices are important bearers of knowledge, history and culture. The patterns used in the logo are a compilation of different types of patterns, just like this conference is a compilation of different languages, cultures and histories.
Maybe you have seen the Northern Sámi Wikipedia front page? It was also designed by Karine Kimo Pedersen and her colleagues at Árvu. We were very impressed with their work in that process, and we are happy to see that the design has also been adapted for other language editions of Wikipedia, like this one in Võro. We love the power of simplicity and strong symbolism in this logo, and in other work of Árvu. We hope it can inspire us all to look at the story and the knowledge that are stored in the shapes and patterns of indigenous craft products.
Read more about the conference on the conference page.
Kategori: Arctic Knot, Blogg, FNs tiår for urfolksspråk 2022-2032, Innlegg forside, Mangfold på Wikipedia, Nordsamisk Wikipedia, Nyheter
Stikkord: #ArcticKnot #IndigenousLanguages #Wikipedia, #IndigenousLanguages, mangfold, Wikimedia Norge